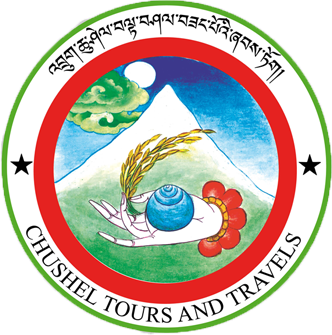 The shining crystal moon on the upper flat is the colour of calmness and signifies expulsion of illness and evil spirits of sentient beings. Thus, the office is named as Chushel since it is the synonym of the moon. The logo has the following significances:
The crystal moon expels eye diseases and clears the darkness. As such, it signifies the auspiciousness of clearing away the tribulation of poverty of human beings. A hand holding gem and paddy is the hand of goddess Vasudhara and it signifies the accomplishment of wealth.
The adornment of hand is coloured yellow to signify accomplishment and expansion of spontaneous wealth. The outer red colour signify conqueror of the wealth of deity, demons and human being. The background mountain peak with white colour and base with green colour signify Bhutan being bordered by mountains and filled with verdant forest.
The azure coloured sky is the symbol of wrathfulness and signifies annihilation of the ghosts of poverty Serag-yulpo Lagtong and so forth. The outer circle coloured verdant signifies the auspiciousness of the world enjoying the wealth of Gross National Happiness.